When I recently reinstalled NFS: Most Wanted, I wondered if the game is able to be a look more visually appealing.
Here is a screenshot before / after modifications:


The first thing I discovered is "NFSMW Resolution Changer", small utility that allows to set any custom resolution of the game (originally maximum resolution was 1280×1024, no widescreen support).
Resolution was big improvement for the game, but original textures looked stretched and blurry on HD screen. Fortunately user "FDen" did a great retexturing work and improved resolution of many textures in the game, so it looks awesome in HD now. The mod is called "Modern Rockport". To use it, you will need a DirectX texture replacement utility – Texmod.
To combine both these methods of improving game's graphics you need to run them both as follows:
1. Run the nfsmwres.exe resolution changer.
2. Run Texmod.exe ("Package mode")
3. Choose "speed.exe" by clicking on the folder button on the top.
4. Press the small Folder button in the middle and select "Modern Rockport 1.0.tpf" file
5. Run the game by pressing "Run" button in Texmod.
Here is how you run the game: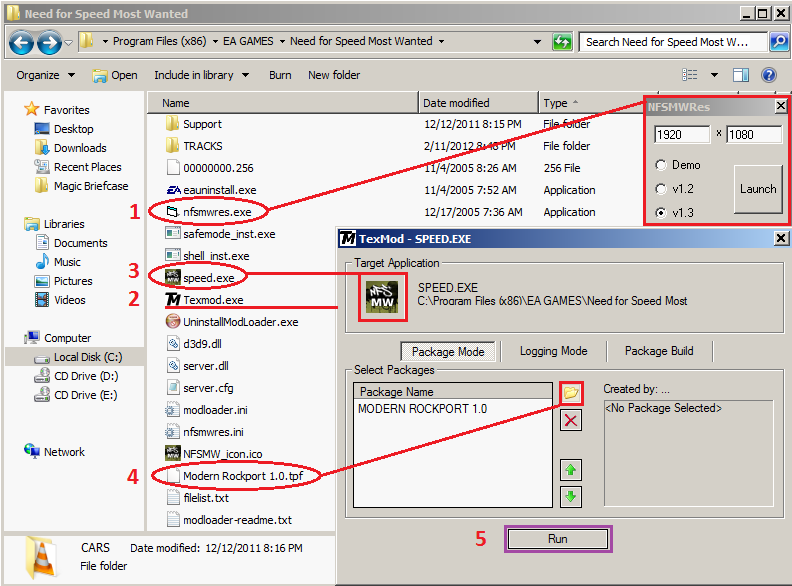 That way, the game will use new textures and HD resolution.
I have mirrored all these tools here for download:
NFSMW Resolution Changer: www.phoenix.ee/download/nfsmw/nfsmwres.exe
Texmod: www.phoenix.ee/download/nfsmw/Texmod.exe
Modern Rockport Texture Mod: www.phoenix.ee/download/nfsmw/Modern Rockport 1.0.tpf
Some scereenshots of modified game: